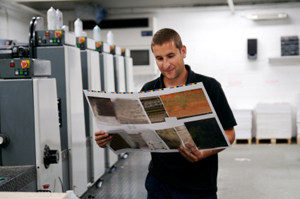 At Sherman Printing, we utilize a wide variety of equipment to provide the highest quality printing. We are constantly adding and upgrading our software, hardware, prepress, printing and finishing equipment. These upgrades allow us to improve quality, efficiency and turnaround times.
---
Prepress
Our Prep department is completely digital.
PROOFING
Laser Printer:
HP LaserJet 5200, black and white only
81/2 x 11 or 11 x 17
Digital Proofers:
Epson Stylus Pro 9800. Digital Hi-res color proofing. 8 up capacity.
Epson Stylus Pro 10600. Digital low-res color proofing. 8 up capacity.
SOFTWARE
Adobe Photoshop
Adobe Illustrator
Adobe InDesign
Adobe PageMaker
Macromedia Freehand
Quark XPress
Adobe Acrobat
Extensis Suitcase
Font Reserve
Enfocus Pitstop Pro
Fusion Pro Variable Data
---
Press Room
PLATING
Fuji Javelin Luxel T9000 CTP Platesetter
40" x 28" Fuji FLH 85P/125P/150P Plate Processor
DIGITAL PRESS
Konica Minolta bizhub Press C1100, full color with inline stapler
Konica Minolta bizhub Press C1070 with envelope capacity
Konica Minolta bizhub Pro 1250P - Black and White
HP Indigo 5600 digital Press, 7 color
OFFSET PRESSES
40" 2007 Heidelberg CD 102-5+L 5/C with Aqueous Coater
28" x 40" Heidelberg Speedmaster Perfector 2/C with Anti-Ghost Rollers
20.5" X 29" Heidelberg Sorsz 2/C with Anti-Ghost Rollers and Infrared Dryers
11" x 17" Hamada 660 2/C
WIDE FORMAT
Fuji Acuity Advance Select Industrial High Speed, 4'x8' UV flatbed printer with white and selective Varnish, option.
Fuji Acuity Advance Select Industrial High Speed, 4'x8' UV flatbed printer with double Cyan and double Magenta
(even Higher speed option).
HP Scitex FB700 Industrial Printer, Hybrid roll to roll ( 98" wide) and flatbed UV printer.
HP Latex 360 64" wide roll to roll
Epson Stylus Pro 11880, 64" wide large-format printer.
54" wide Cold (heat assisted) Laminator
63" wide VCXL63F-S VersaCoater XL63 UV Coater, with Digital Control System.
Tec Lighting 21" Tru UV Coater
Colex Sharp Cut 5'x10' flatbed cutter router & wide format Kiss Cut.
Opti Scout, wide format Cad Software, for digital Die Cut, KissCut and Routing.
Caldera GrandRip + award winning high quality Rip software, full ICC and PDF workflow.
---
Bindery
54" Polar Paper Cutter with jogger
26" x 40" MBO Folder with Rotocrease and Gatefold attachments
20" x 26" MBO Folder with Rotocrease
Lawson 3 Head Drill (3/16 - 3/8 available)
Challenge Round Cornering Machine
2 Shrink Tunnels with Auto Sealer
Stahl Stitcher - 4 pockets with cover feeder
Horizon 260 Perfect Binder
Wire-O and Spiral
Standard Auto Creaser Pro
Horizon SPF Folder/Collator/Stitcher